Back to the list
"Multimedia" menu

From the main menu, press "Multimedia", "Photo", then select an input source connected to the system from the following list to access the photos:

- "USB-1" (USB port);

- "USB-2" (USB port);

- "SD" (SD card).

Note: Some formats may not be readable by the system.

Note: The USB flash drive (or SD card) used must be FAT32 formatted and have a minimum capacity of 8GB and a maximum capacity of 32GB.

Note: the input sources described above may vary.
Photo playback is only possible when the vehicle is stationary.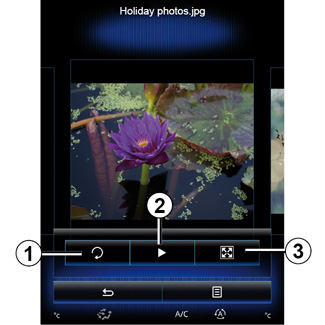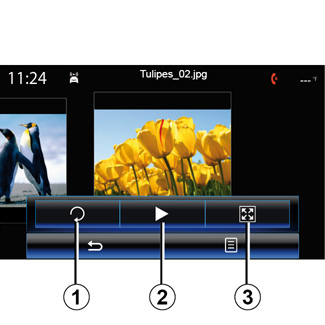 "Photo"

Playback

You can choose between reading all the photos in a slideshow or viewing a single photo.

When viewing a photo, you can:

- access the previous and next photo by flicking image view area;
- hide/show the status and control bar by pressing the image preview area;
- rotate a photo by pressing 1;
- play a slideshow by pressing 2;
- switch from normal (adjusted) mode to full screen mode by pressing 3.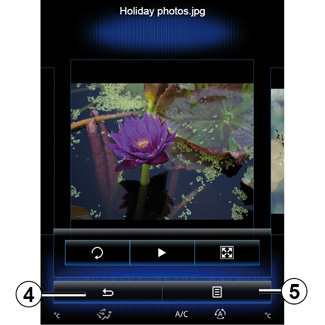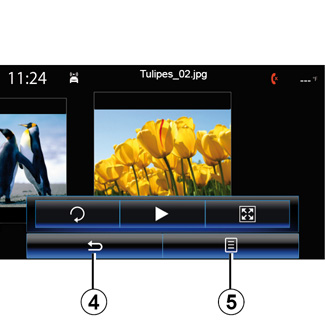 Pop-up menu 5
From the photo display screen, press 5 to:
- get detailed information of photos (title, file type, date, path, etc.);
- set the photo as a user profile;
- Accessing settings
"Settings"
From the settings, you can:
- change the display time for each photo in the slideshow;
- active/deactivate animation effect between each photo in the slideshow.
Once the settings have been made, press 4 to save your changes and return to the previous screen.
Note: The slideshow animation effect is activated by default.
Note: For more information on compatible photo formats, please consult an authorised dealer.