Back to the list
"Multimedia" menu

To access videos, from the main menu press "Multimedia", "Video", then, from the list which follows, select an input source that is connected to the system:

- "USB-1" (USB port);

- "USB-2" (USB port);

- "SD" (SD card).

Note: some video formats may not be readable by the system.

Note: the USB flash drive (or SD card) used must be FAT32 formatted and have a minimum capacity of 8GB and a maximum capacity of 32GB.

Note: the input sources described above may vary.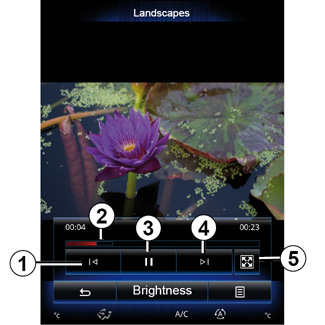 "Video"

Playback

When playing a video, you can:

- access the previous video by pressing 1. During video playback, press 1 to restart the video from the beginning, or press and hold to rewind;

- pause by pressing 3;
- access the next video by pressing 4 or pressing and holding 4 to fast forward the current video;
- view the video in full screen by pressing 5;
- use the scroll bar 2.
Video playback is only possible when the vehicle is stationary.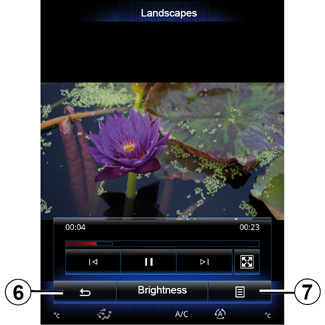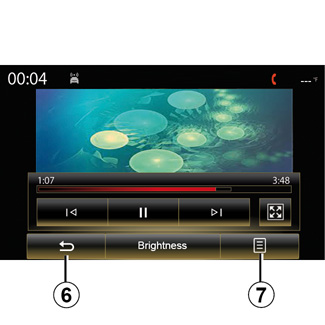 Pop-up menu 7
During video playback, press "7" to:
- get detail video information (title, type, date, etc.);
- Accessing settings
Note: For more information on compatible video formats, please consult an Authorised Dealer.
"Settings"
From the "Settings" menu, you can choose the type of display: normal (fit) or full screen. Press 6 to confirm and go to the previous screen.
"Brightness"
During video playback, press "Brightness" to adjust the screen brightness. A control bar will appear for you to perform the adjustment. Touch the screen outside this bar to make it disappear and return to the video playback.