Back to the list
FRONT HEADLIGHTS: changing bulbs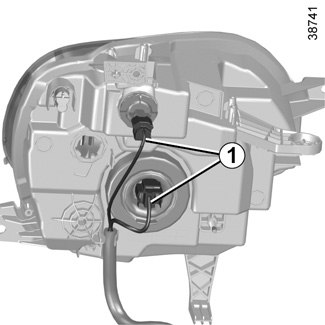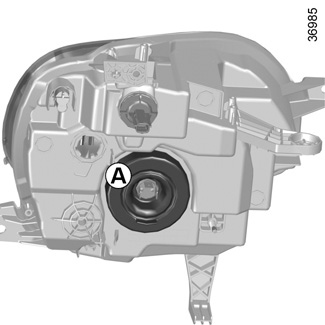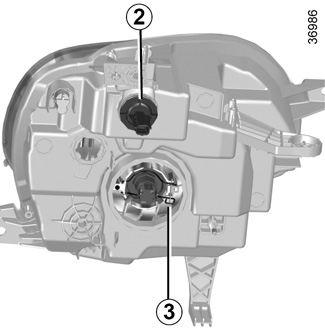 Dipped/Main beam headlight
To change the bulb:
- disconnect wiring 1;
- remove cover A;
- unclip the spring 3 and remove the bulb.
Bulb type: H4.
It is essential to use anti-U.V. 55W bulbs so as not to damage the plastic on the headlights.
Do not touch the bulb glass. Hold it by its base.
When the bulb has been changed, make sure you refit the cover correctly.
Direction indicator lights
Turn the bulb holder 2 a quarter of a turn and take out the bulb.
Bulb type: PY21W.
Once the bulb has been replaced, check that it is properly secured.
For your safety, do not remove the bonnet holding straps.
Risk of the bonnet falling on the road surface.
The bulbs are under pressure and can break when replaced.
Risk of injury.
Please note when working close to the engine that it may be hot. The engine cooling fan may also start at any moment. The  warning light in the engine compartment reminds you of this.
Risk of injury.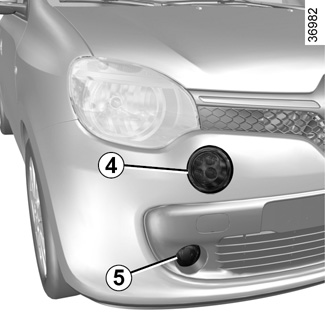 Daytime running lights 4
Please see an authorised dealer.
Front fog lights 5
- Access the bulb holder via the underneath of the vehicle;
- unclip the flap;
- unscrew the bulb holder.
Bulb type: H16.
Additional lights
If you wish to fit fog lights to your vehicle, please see an authorised dealer.
Any operation on (or modification to) the electrical system must be performed by an approved dealer since an incorrect connection might damage the electrical equipment (harness, components and in particular the alternator). In addition, your Dealer has all the parts required for fitting these units.
To comply with local legislation, or as a precaution, you can obtain an emergency kit containing a set of spare bulbs and fuses from an approved dealer.