Back to the list
AIR CONDITIONING: remote activation
The air-conditioning can be activated using the card RENAULT or by the connected services.
This function enables you to bring your vehicle to a comfortable temperature before using it.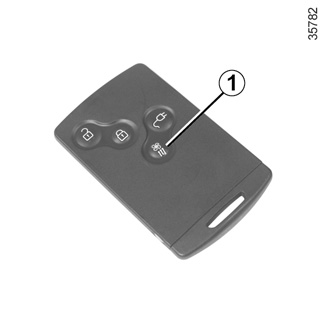 Operating condition
- the engine must be switched off;
- the traction battery charge level must be greater than 25% or, depending on the vehicle, 45%
Activating the function
It is carried out by:
- a long press on the button 1 of the card RENAULT (make sure you are within the card's field of action - please see the information on "Card RENAULT : general information" in Section 1);
- connected services.
Activating the function is visualised by
- constant illumination of the hazard warning lights and the side repeaters for 3 seconds;
- the warning lights in the buttons  and AUTO on the air-conditioning control are lit.
Switching off the function
- automatically, after a period of approximately 5 minutes;
- upon starting the engine;
- if you press on the "automatic mode" controls, the "clear view" function, the fan settings or quick access to the "air-conditioning programming" menu;
- if the energy taken exceeds 5% of the traction battery level.
Advice: to optimize vehicle range, use this function when the vehicle is plugged in.
Driver's responsibility when parking or stopping the vehicle
Never leave an animal, child or adult who is not self-sufficient alone on your vehicle, even for a short time.
In hot and/or sunny weather, please remember that the temperature inside the passenger compartment increases very quickly.
RISK OF DEATH OR SERIOUS INJURY.