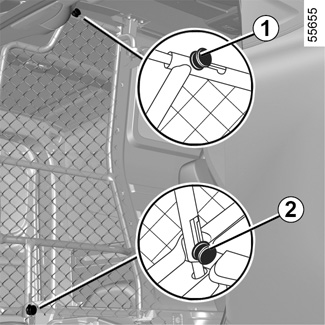 To rotate the partition
- Deactivate the front passenger airbag CHILD SAFETY: deactivating, activating airbag front passenger ;
- place the seat in the flat position FRONT SEATS ;
- unlock the swivelling section of the partition by lifting catches 1 and 2;
- before turning the mobile section, ensure that the 1 and 2 catches are in the unlocked position;
- pivot the moving section 90 degrees, lock it at point 3 and lower the catch 2. Ensure that the catch is locked correctly 2.
When handling, ensure that the seat belt does not become damaged.
The swivelling section must always be locked when the vehicle is driven.
Risk of injury.
For your safety, fasten down any objects transported with the seat in flat-floor position.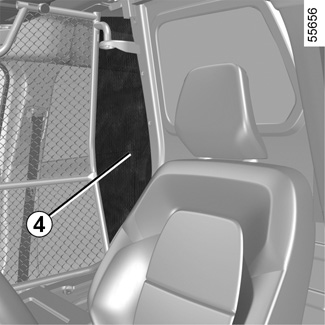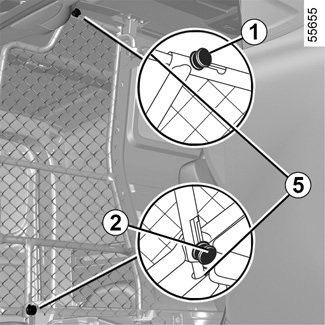 Before returning the partition to its initial position, set catches 1 and 2 to the unlocked position.
Reset the swivelling section to the initial position, lock the 2 catch and then, the 1 catch. Make sure that catches 1 and 2 are locked correctly.
Note: before returning the swivelling section to its initial position, check that the locking points 5 are clean.
When using the pivoted partition, the protective net 4 must not be removed or disassembled, even partially.
Risk of injury due to the projection of objects from the rear load area during braking.