Back to the list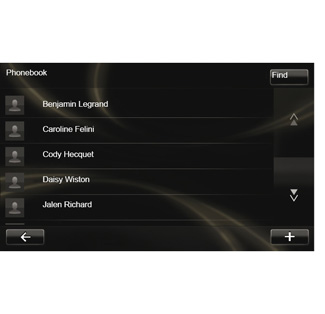 Downloading the phone memory
By default, when pairing and connecting a telephone, the contacts are synchronised automatically. The multimedia system will warn you that your mobile device data will be updated when synchronisation is complete.
To deactivate automatic synchronisation, please refer to the "Telephone settings" section in this document.
The system memory is restricted and it is possible that all your contacts may not be imported from your phone.
Note: the contacts saved on the SIM card SIM on your phone are not visible. Only contacts saved on the phone are visible.

Note: to access the phonebook from the multimedia system, you will need to authorise data sharing on your telephone. Please refer to the "Pairing, unpairing a telephone" section, and your telephone instructions.

Updating the phonebook

You can transfer your phone contacts into the handset memory of your hands-free phone system via Bluetooth® (if your phone allows this).

From the "Phone" menu, select "Phonebook", then the "+" menu, and press "Update phone data".
Adding a contact to the Favourites page
From the "Phone" menu, select "Phonebook", then the contact to be added using the multimedia screen. Then press the "+" menu and "Add to Favourites".
Note: From the welcome page, press the "Favourites" button to access your favourite numbers.
Confidentiality
The contact list of each phone is stored in the memory by the hands-free system.
For reasons of confidentiality, each downloaded contacts list can only be viewed when the corresponding telephone is connected.