Back to the list
Accessing media

This menu enables you to listen to music from an external source (audio CD, USB, SD card etc.).

From the main menu, press "Multimedia", then "Media". Select an input source connected to the system to access the audio files from the following list:

- CD audio;

- USB;

- SD card;

- auxiliary socket;

- Bluetooth® connection.
The SD card provided does not recognise the multimedia system as an external source for music playback. Remove the SD card provided and insert a new SD card containing your music. Using an external SD card makes it impossible to use the navigation system.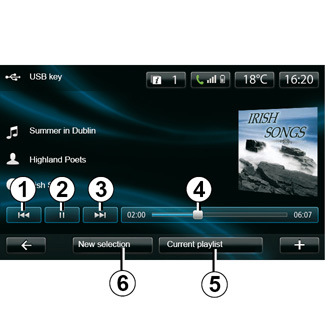 From the main menu, you can:
- access the audio files directly;
- access files, music, genres, artists, albums and reading lists;
- access files and/or audio files.
Note: only available sources can be selected. Unavailable sources will be greyed out.
Playback
You can choose between playing all the tracks or playing a single track.
When playing a track, you can:
- access the previous track by pressing 1;
- pause by pressing 2;
- access the next track by pressing 3;
- view the scroll bar 4;
- access the current playback list 5;
- make a new music selection 6.
Pop-up menu "+"
During playback, the pop-up menu "+" enables you to:
- change source;
- search for a new device;
- access sound settings.