Back to the list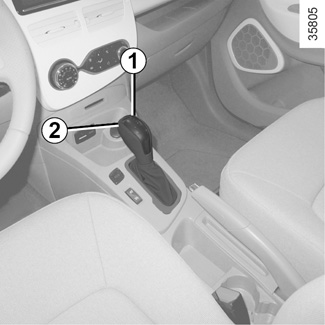 Operates similar to an automatic gearbox.
Selector lever 1
The display 3 on the instrument panel indicates the gear lever position.
P: park
R: reverse
N: neutral
D: forward drive
Operation
To start the engine, please refer to the information on "Starting/Stopping the engine" in Section 2.
To move out of position P, you must depress the brake pedal before pressing unlocking button 2.
With the foot on the brake pedal (warning light c on the display 3 goes out), move the lever out of position P.
Only engage D or R when the vehicle is stopped, with your foot on the brake and the accelerator pedal released.
Driving
While driving, press the accelerator pedal to achieve the desired speed.
The reversing lights will come on as soon as reverse gear is selected (with the ignition on).
The vehicle can only be started if the charging cord is unplugged from the vehicle.
The vehicle can only start of the gear selector is in position P.
Put the lever 1 to position D or R.
The vehicle moves forward once you release the brake pedal (without pressing on the accelerator pedal).
Obstructions to the driver
On the driver's side, only use mats suitable for the vehicle, attached with the pre-fitted components, and check the fitting regularly. Do not lay one mat on top of another. There is a risk of wedging the pedals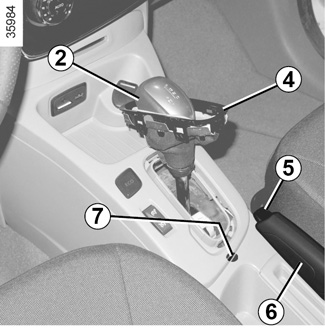 Parking the vehicle
When the vehicle is at a standstill, place the lever in position P: the drive wheels are mechanically locked by the transmission.
Apply the handbrake.
Operating fault
When setting off, if the lever is locked in position P, even though you are depressing the brake pedal and pressing the unlocking button 2, the lever can still be released manually. To do this, unclip the cover 4 at the base of the lever.
Simultaneously press at the location 7 and the unlocking button 2 on the lever.
In the event of an impact to the underside of the vehicle (e.g.: striking a post, raised kerb or other street furniture), this may result in damage to the vehicle (e.g.: twisted axle), the electrical circuit or the traction battery.
Do not touch the circuit elements or any fluids or liquids.
To prevent any risk of accident, have your vehicle checked by an authorised dealer.
Risk of serious injury or electric shock and risk to life.
When stationary and depending on the slope and/or vehicle load, it may be necessary to pull up the handbrake at least two extra notches and engage position P.